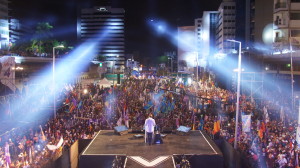 Politics
Most people wouldn't dream of going to court without a lawyer. If you are serious about winning a campaign for public office you need a professional team and professional advice.
SRSC has helped elect candidates to almost every level of government ranging from State Senate to U.S. Congress and U.S. Senate domestically and from National Assembly to President internationally.
SRSC will prepare a campaign plan, develop the campaign's strategy and message, suggest advertising tactics and timetables, design a management structure and consult on a wide array of technical problems and challenges.
SRSC professionals have experience in every aspect of campaigning that our clients need. From providing strategy to advertising and raising money, SRSC provides customized, detail-oriented campaign management.